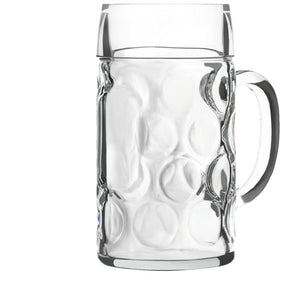 Beer mug with personalized 1 liter handle
"The first sip of beer. And other little pleasures of life" is the title of a splendid book by Philippe Delerem. How to blame him? Logotec offers you a decidedly important article: the personalized beer mug with 1 liter handle is a professional item that you will have already encountered in the best pubs and breweries, characterized by generous dimensions. It will not fail to create a "wow effect"!
Make the 1 liter beer mug with handle unique with a dedication, a phrase or an image engraved or silkscreened: it will be a perfect gift idea for all beer lovers. Thanks to our magical customizer, you just need one click!
The personalized 1 liter beer mug with handle is a gift idea for him and for her, decorated with name, dedication and logo, perfect for birthdays, anniversaries, weddings, parties. All the custom handle beer mugs by Logotec they are 100% made in Italy. Professional quality. Best quality / price ratio. Order 5 and the sixth is free.
Technical specifications of the beer mug with personalized 1 liter handle:
Capacity: 127 cl (1 l)
Height: 201 mm
Diameter: 163 mm
FAQ
How is personalization done?
The processing takes place with laser engraving.
How does it work?
The laser beam, piloted by a numerically controlled machine, scratches the surface of the glass making it opaque.
How many colors can be obtained?
One: satin white. Laser processing is an engraving technique and not a printing one; for this reason it does not provide the possibility of working in color.
What are the benefits?
Resistance: The laser processing is not a print applied to the glass, but an engraving made on the glass: it is therefore impossible to remove, scratch-proof, resistant to repeated washing in industrial dishwashers.
Economy: The laser processing allows you to customize both large quantities of glasses and small or very small batches.
For which products is it recommended?
The aesthetically fine and non-invasive laser engraving is suitable for customizing any glass item: glasses, mugs, cups but also decanters, ashtrays, bottles etc.
What kind of article does Logotec propose?
All the products in the Logotec catalog are Made in Italy and characterized by a professional level quality.
What if you want a glass or a decoration other than those proposed?
You can browse our complete catalog on the site logotec.it or write to us at shop@logotec.it
Reviews