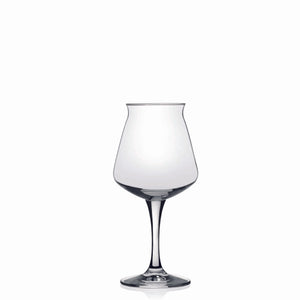 Calice degustazione birra MINI TEKU
Le birre artigianali vibrano di note uniche e meritano un calice che sappia farle risuonare nella loro purezza. È per questo motivo che nel 2006 Teo Musso e Lorenzo Dabove (Kuaska), figure cardine nel mondo della birra, hanno ideato un calice da degustazione dedicato alle Craft Beers: il calice degustazione birra Mini TEKU personalizzato.
Il calice degustazione birra Mini TEKU personalizzato rappresenta una vera chicca: un TEKU formato Mini da 33cl, in tutto identico al fratello maggiore ma con dimensioni contenute, perfetto per la degustazione e dotato del marchio TEKU in rilievo sul piattello.
Ascoltiamo la storia e la filosofia del calice degustazione birra Mini TEKU personalizzato direttamente dalle parole di Teo Musso, Presidente del Consorzio di tutela della Birra Artigianale e patron del Birrificio Agricolo Baladin:

"Quando nel 2006 ho ideato il TEKU la mia ambizione era che diventasse uno strumento per degustare la birra artigianale e che fosse preso come simbolo per identificarla in modo trasversale, non legandosi ad uno stile ma alla percezione degli aromi. L'idea era di creare un calice elegante che valorizzasse il suo prezioso contenuto. Volevo, ambiziosamente che fosse il solo e unico e oggi si può dire che sia così grazie ai tanti colleghi che nel mondo lo hanno adottato come portabandiera dei loro prodotti e di un rinnovato mondo birrario".
La forma inconfondibile, il bordo sottile e la coppa a camino ideata per concentrare gli aromi hanno reso il calice degustazione birra Mini TEKU personalizzato una vera e propria icona del settore birraio. Se vuoi trasformare il calice degustazione birra Mini TEKU personalizzato in un regalo davvero unico e speciale, scegli una dedica, una frase o un'immagine da incidere o stampare in serigrafia: poche mosse e avrai creato una sorpresa personalizzata che farà felice qualsiasi devoto delle birre artigianali, sia esso un gourmet o un amatore. Con il nostro magico personalizzatore ti basterà un click!
Occhio alle imitazioni: solo l'originale calice degustazione birra Mini TEKU personalizzato riporta il marchio registrato TEKU a rilievo sul piattello!
Il calice degustazione birra Mini TEKU personalizzato è un'idea regalo per lui e per lei, decorato con nome, dedica e logo, perfetto per compleanni, anniversari, matrimoni, feste. Tutti i calici da degustazione birra artigianale TEKU personalizzati sono made in Italy. Qualità professionale. Miglior rapporto qualità / prezzo. Effetto wow garantito. Ordina 5 e il sesto è omaggio!
Specifiche tecniche del calice degustazione birra Mini TEKU personalizzato:
Capacità: 33 cl
Altezza: 186 mm
Diametro: 88 mm
FAQ
How is personalization done?
The processing takes place with laser engraving.
How does it work?
The laser beam, piloted by a numerically controlled machine, scratches the surface of the glass making it opaque.
How many colors can be obtained?
One: satin white. Laser processing is an engraving technique and not a printing one; for this reason it does not provide the possibility of working in color.
What are the benefits?
Resistance: The laser processing is not a print applied to the glass, but an engraving made on the glass: it is therefore impossible to remove, scratch-proof, resistant to repeated washing in industrial dishwashers.
Economy: The laser processing allows you to customize both large quantities of glasses and small or very small batches.
For which products is it recommended?
The aesthetically fine and non-invasive laser engraving is suitable for customizing any glass item: glasses, mugs, cups but also decanters, ashtrays, bottles etc.
What kind of article does Logotec propose?
All the products in the Logotec catalog are Made in Italy and characterized by a professional level quality.
What if you want a glass or a decoration other than those proposed?
You can browse our complete catalog on the site logotec.it or write to us at shop@logotec.it
Reviews