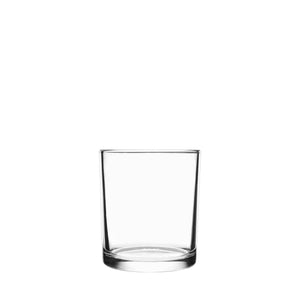 Minimal and elegant design, clean and timeless lines, maximum versatility of use: imagine these concepts transfused into tempered glass and you will have the personalized Tumbler glass. 
The Tumbler glass is a professional item that, for sure, you have already met many times in the best bars, wine bars and clubs of all kinds. Every occasion is the right one: lunches, dinners, aperitifs, parties. 
The glass Tumbler is appreciated for its ability to adapt perfectly to any context; you can in fact use it for water, wine, beer, cocktails, fruit juices, soft drinks and, why not, even fruit salads and finger food.
All the glasses, flutes, glasses, mugs and glass mugs customized by Logotec are 100% made in Italy. Professional quality. Best quality / price ratio. Order 5 and the sixth is free.
Technical specifications of the glass Tumbler:
Capacity: 36 cl (0.3 l)

Height: 90 mm

Diameter: 85 mm
FAQ
How is personalization done?
The processing takes place with laser engraving.
How does it work?
The laser beam, piloted by a numerically controlled machine, scratches the surface of the glass making it opaque.
How many colors can be obtained?
One: satin white. Laser processing is an engraving technique and not a printing one; for this reason it does not provide the possibility of working in color.
What are the benefits?
Resistance: The laser processing is not a print applied to the glass, but an engraving made on the glass: it is therefore impossible to remove, scratch-proof, resistant to repeated washing in industrial dishwashers.
Economy: The laser processing allows you to customize both large quantities of glasses and small or very small batches.
For which products is it recommended?
The aesthetically fine and non-invasive laser engraving is suitable for customizing any glass item: glasses, mugs, cups but also decanters, ashtrays, bottles etc.
What kind of article does Logotec propose?
All the products in the Logotec catalog are Made in Italy and characterized by a professional level quality.
What if you want a glass or a decoration other than those proposed?
You can browse our complete catalog on the site logotec.it or write to us at shop@logotec.it
Reviews